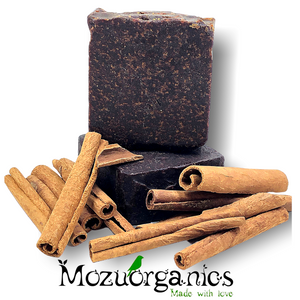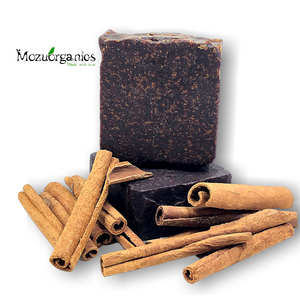 Cinnamon Vanilla Soap Scrub Bar
Regular price
Sale price
$16.00
---
The main ingredient is cinnamon, which improves blood flow to the skin, resulting in soft skin with a natural glow. The second key ingredient is clove oil, and the third is anise seed oil. Along with all the organic ingredients, these three are the ones that make this bar unique from the rest.
Cinnamon brings several benefits to your skin, body, and mind. Cinnamon is also known to help fight pathogens that affect the skin. Within cinnamon, you will find several minerals and vitamins that help renew and rejuvenate your skin.
Manganese, a trace mineral found in cinnamon, is essential for collagen formation and wound healing. 

Another ingredient is clove oil, which has several benefits for your skin. Clove oil aids in the reduction of sagging skin and prevents the appearance of fine lines and wrinkles. Powerful anti-aging ingredient, Removes the dead skin cells and helps in blood circulation, which indirectly or directly ensures young and radiant skin.

Anise offers detoxification to the epidermis, leaving the skin radiant and healthy. Studies have shown anise seed oil to aid in the disappearance of scars and dark spots. It effectively aids in the treatment of acne and rebuilds damaged skin. 

During the winter months, skin conditions like eczema or psoriasis flare up due to the cold and dry weather conditions. One thing that several of my customers with these skin conditions tell me that it gives relief to those light-colored patches because cinnamon exfoliates dead skin cells and reinstate the softness of your skin. 

With every bath or shower, the sweet essence of cinnamon, cloves, and vanilla stimulates the senses and excites the brain. All of our soaps are free of harmful chemicals. They have a bubbly moisturizing lather and rinse off clean without residue. Our soap philosophy is to cleanse, gently exfoliate, combat pathogens, soothe tender parched skin, eliminate flaking, and moisturize your skin.

Small batches and all hand-mixed with love. Though a lengthy process but well worth it. Full of natural glycerin, which is a by-product of the soap making process, none added. This glycerin from our soap serves as a natural humectant, which helps attract moisture to the skin and can be gentle enough for even the driest and most sensitive of skin. Gentle enough to be used all over. It's a natural soap that provides conditioning and moisture for your skin.

Organic Saponified Oil Blend: Organic Cocos Nucifera (Coconut) Fruit Oil, Organic Elaeis Guineensis (African Palm) Fruit Oil, Organic Helianthus Annuus (Sunflower) Seed Oil, Organic Olea Europaea (Olive) Fruit Oil. 

Organic Naturally-Derived Blend: Organic Apis Mellifera (Honey), Organic Cera Alba (Beeswax), Organic Cinnamomum Loureiroi (Saigon Cinnamon), Organic Saccharum Officinarum (Cane Sugar), Organic Syzygium Aromaticum (Cloves), Organic Rosmarinus Officinalis (Rosemary) Extract, Organic Trifolium Pratense (Red Clover) Blossoms, Organic Vanilla Fragrance. 

Organic Essential Oil Blend: Organic Cinnamomum Cassia (Cinnamon) Leaf Oil, Organic Cinnamomum Zeylanicum (Ceylon Cinnamon) Leaf Oil, Organic Eugenia Caryophyllus (Clove) Flower Oil, Organic Illicium Verum (Star Anise) Seed Oil, Organic Myristica Fragrans Kernel (Nutmeg) Oil.

Inspired by Ginger Oat Milk Tea. Our newest addition to the Mozuorganics family. ingredients in the Ginger Oat Bergamot Bar Soap. will make you feel so good. It excites and stimulates your brain and heart with its scent, from the essential oils used. Therefore I believe it to be good for our mind and body.


The statements regarding health-related benefits of certain ingredients have not been evaluated by the Food and Drug Administration and are in no way intended and should not be construed as medical advice to diagnose, treat, cure, or prevent any disease or health condition. Never disregard professional medical advice or delay in seeking medical advice because of something you have read on "Our Site." 
The information provided is never meant to substitute the advice provided by your personal physician or other medical professionals. Do not use the information found on this website to self-diagnose any medical conditions or treat any health problems or diseases. The information provided is not intended to prescribe or be taken as medical advice. If you have or suspect that you have a medical condition please contact your health care provider immediately.